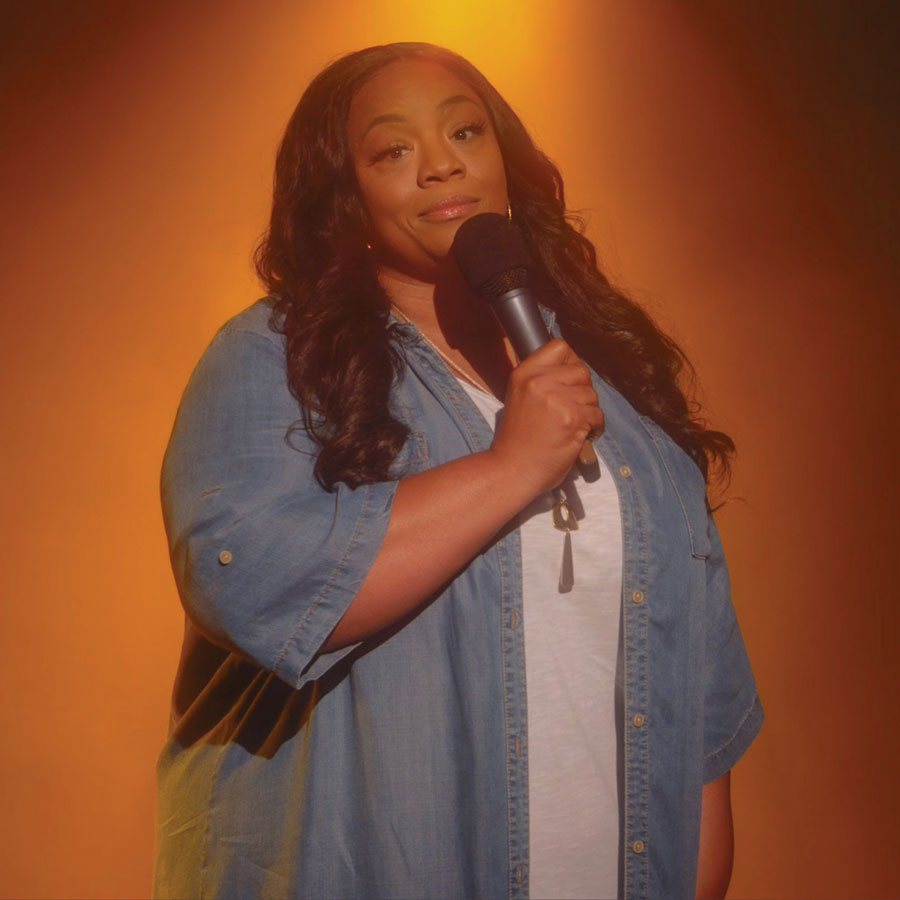 One of Patricia "Ms. Pat" Williams's earliest memories is watching her mother shoot craps in her grandfather's bootleg house, where he made moonshine. Nothing was off-limits during her childhood in Atlanta, she jokes in her recently premiered Netflix stand-up special, Ms. Pat: Y'all Wanna Hear Something Crazy?
Williams, 50, is the youngest of five children raised by a single mother in the late 1970s and '80s on the west side of Atlanta. By age 15, Williams had two children and was selling crack cocaine to buy formula and diapers. After a short stay in prison, she was determined to break the cycle of crime and poverty. She tried a number of jobs—working as a medical assistant, doing concessions at the Georgia Dome, and serving customers at McDonald's ("Where have I seen you before?" she asked former president Jimmy Carter when he walked in one day)—but none of them fit. She was working at the General Motors plant in Doraville when a social worker, knowing Williams's penchant for crafting a good joke, suggested she try stand-up.
"I went to an open mic at this place that used to be called the Pub in Morrow," Williams recalls. "I got a friend to go with me, and I said, If it don't work, we're never going to tell anyone."
She's been telling jokes ever since, filling her latest routines with rants about pet-lover antics, girdle discomfort, and getting baptized for free food and money. If you were having financial problems, Williams explains in the new special, all you had to do was join your local churches, get the kids baptized—and, then, get a check: "My mama turned that shit into a scheme where she started getting us baptized two, three times on a Sunday—I remember one time showing up already wet!"
"When you can take the darkest thing and find the funny in it, that's when you know you have control over it," says Williams, now a wife and mother of four adult children. "You have to be able to laugh and let go." She turned that pain into laughter when she published her autobiography, Rabbit, in 2017. The title comes from her childhood nickname, and in the book, she recalls her early life­—from covering a bullet wound with a Jheri curl after being shot in the head to watching her grandfather throw people through the screen door. The book, cowritten with Jeannine Amber, was nominated for a NAACP Image Award.
Williams now hosts the popular Patdown podcast and cohosts V103's Big Tigger Morning Show. She's also filming the second season of her BET+ sitcom, The Ms. Pat Show, which is based on the culture shock she experienced when her husband's job relocated the family to Plainfield, Indiana, in the early 2000s.
"I forget I'm on TV; let my friends tell it, I'm in denial," Williams laughs. "I'm an ordinary person, and I buy my own groceries, so I don't need a red carpet . . . I need my check to clear."
This article appears in our April 2022 issue.