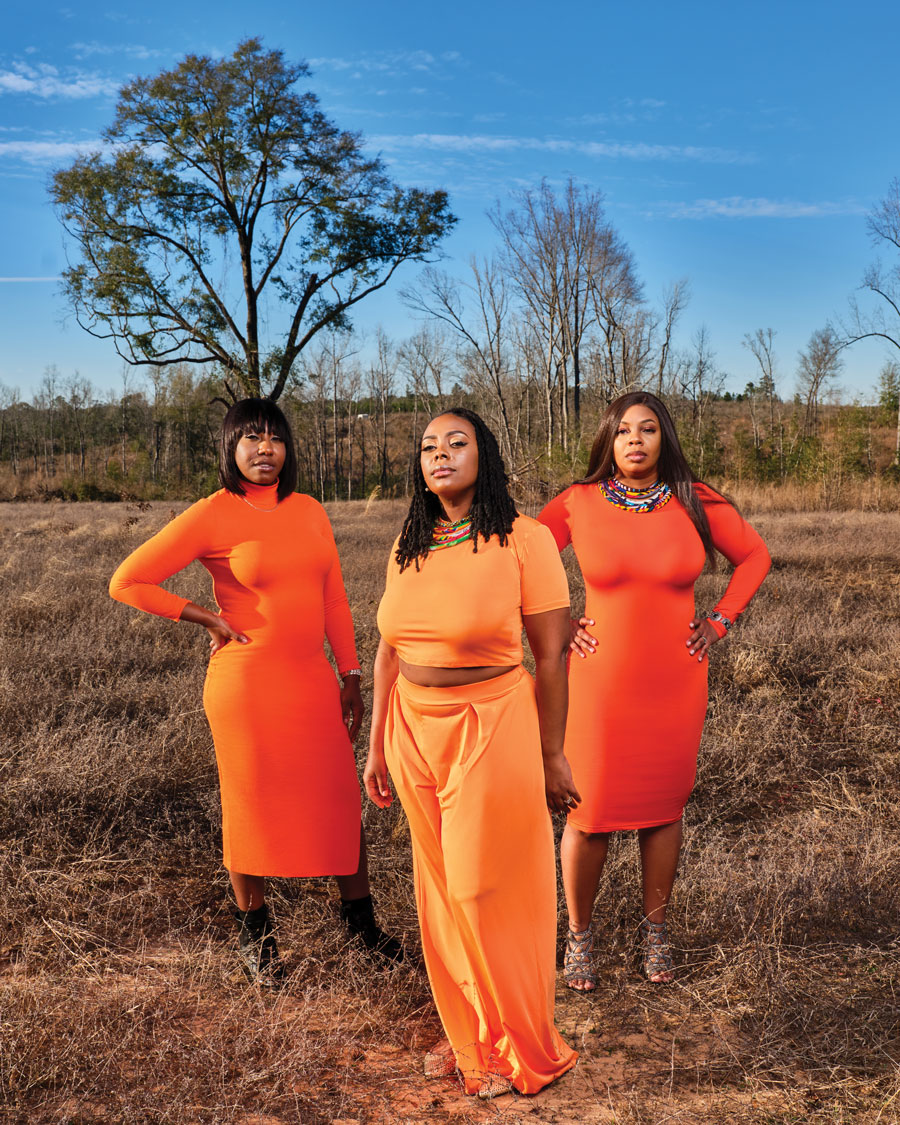 A few months into the pandemic, Ashley Scott, Laura Riley-Cooper, and Renee Walters invited two dozen friends and family members to a Zoom meeting. The three women—isolated from loved ones due to Covid, bombarded with the back-to-back killings of Black people: Ahmaud Arbery, Breonna Taylor, George Floyd—were feeling disempowered. Scott recalls their mood: "We want freedom . . . from all of the things that feel outside of our control, freedom from police brutality, freedom from these disparities around our health and our wellness." And they had an idea.
Scott had been attending city council meetings in Stonecrest, where she lives; a real estate agent, she thought they would be a good place to meet new clients. She soon learned how Stonecrest, previously an unincorporated area, had become a city just a few years prior, giving its residents more control over their government and tax dollars. Local politics, down to zoning and regulations, was how to make change happen, Scott realized. But even majority-Black cities still struggle against the cumulative effects of American racism: Atlanta has greater levels of economic inequality than most cities in the country. And Stonecrest recently has been dogged by corruption and mismanagement. The only way to circumvent those barriers would be to start completely from scratch, she thought.
So, Scott got together with Riley-Cooper and Walters—two of her close friends—to devise a plan. They would build an entirely new town, created specifically with the needs of Black people in mind. "A lot of times our politicians, our police, these people don't live in the areas where they are making decisions for the people who do live in those areas," Scott says. "I wanted to create a community that would be not just representative but led by the people who live there." They had a vision: an environmentally sustainable city with its residents pooling resources to achieve collectively what individuals can't do alone. They had a name: Freedom. They even found some land: nearly 100 acres of unincorporated Wilkinson County, about an hour's drive east of Macon. All they needed to take the first step was financial help from friends and family.
So, over that Zoom meeting in June 2020, they made their pitch, inviting the other families to join them in building their own community through what would be called the Freedom Georgia Initiative. Some were wary, but, in the end, 16 people decided to join the women; together, they pooled their money and purchased the land. In return, each family in the initiative owns two acres of what will become Freedom. The majority of the land belongs to the community, but some of it is for sale so like-minded families can join the movement.
Over the past two decades, nine out of the 10 American cities with the largest Black populations saw steep declines in those populations, with some residents moving to smaller cities, others to the suburbs, and most seeking lower costs of living or better jobs and opportunities. In creating FGI, the women have also joined a trend that's recently taken hold in the Atlanta metro: the cityhood movement. Between 2005 and 2015, eight unincorporated neighborhoods in Atlanta's largest counties—Fulton, Gwinnett, and DeKalb—voted to incorporate. This first wave of the cityhood movement saw the creation of majority-white cities like Sandy Springs in 2005, Milton in 2006, and Peachtree Corners in 2012. Stonecrest, the first majority-Black city created in Georgia since Reconstruction, instantly became DeKalb's second-largest city when it was formed in 2017.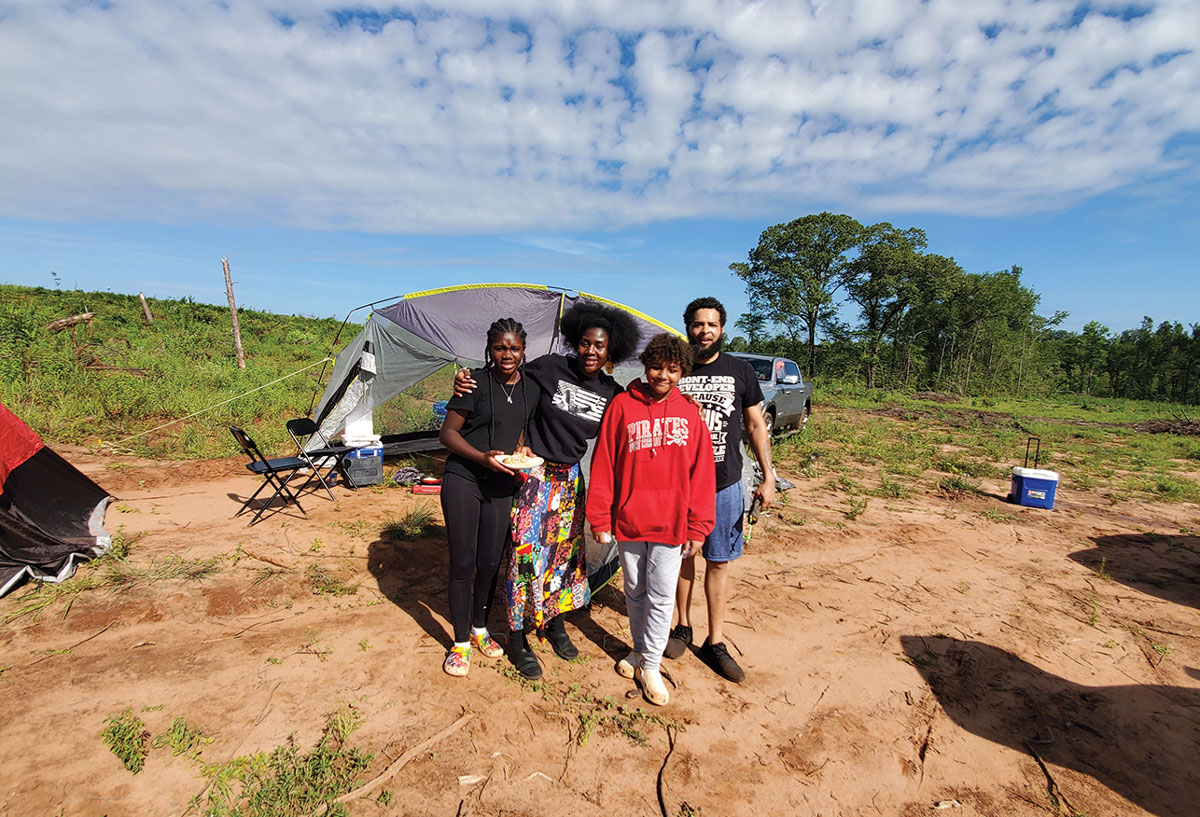 Every new city incorporates for its own reasons, and every city has to figure out its own logistics—garbage collection, public safety. What will set Freedom apart, Riley-Cooper says, is its focus on addressing concerns specific to Black Americans. "The first priority is creating a community where we are making decisions together," Riley-Cooper says. "We're focused on mental healing, sustainability, creating food sovereignty—all of the things where we're typically disenfranchised in our community."
A few months after its first purchase, in October 2020, the Freedom Georgia Initiative took out a loan to acquire another 404 acres. Whereas Stonecrest was already developed when it became a city—including houses clustered into neighborhoods and businesses like the Stonecrest Mall—the land chosen for Freedom is undeveloped, save for a rundown hunting shack and a root cellar. No one lives on the purchased acreage yet. Since its founding, FGI has raised more than $100,000 and used donations to complete a topographical survey to learn more about the land, clear some acreage, and install a well and water pump. The next step will be building structures with sustainable materials and developing community agriculture. FGI also plans to bring in groups like Georgia Women in Agriculture to help teach the women in Freedom how to farm.
In the meantime, the organization has hosted several events on the property, like campouts and hands-on agriculture workshops. Supporters who want to give more than money have helped clear land and even built a performance stage for events. Those events have been crucial, Scott says, in getting the word out to the public, including attracting future residents.
In a recent NPR interview, Wilkinson county manager Dennis Stroud said neighbors initially had concerns about the language of a pro-Black town—others called the women separatists—but those fears are abating as more people learn about the initiative. Scott agrees that the goal is not to keep anyone out: "This is an opportunity for us to attract people who want to practice self-determination, group work, and collective economics, people who want to see the disparities that disproportionately affect Black people be changed and use our community as a means to do it. It's about what mindset you bring so that we know that these core values won't be shirked for profits or individual interests."
Freedom has several years to go before it can become an incorporated city with governing power. After the community meets various population and land-use requirements set by the state, the Freedom Georgia Initiative must obtain an approved feasibility plan proving that Freedom can support itself, then find a legislator to sponsor a bill to incorporate. The bill alone will take two years. Then, the citizens who will eventually live in that area will most likely have to vote to become a city or not.
Scott, Walters, and Riley-Cooper say the recent media attention has brought supporters and trolls. Comments on Freedom Georgia Initiative's YouTube page express a range of opinions, from doubts about the cityhood process to racist insults. But Scott says they're ignoring the naysayers: "If you know damn well that you ain't never coming to Freedom, stay out of our business."
This article appears in our April 2022 issue.