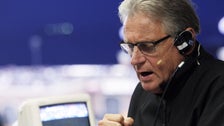 San Francisco Giants broadcaster Duane Kuiper revealed a different kind of potty mouth during a game this week. (Watch the video below.)
A half-inning had just ended on a Giants at-bat against the host Arizona Diamondbacks Wednesday when the longtime announcer declared nature was calling ― but he didn't say it so delicately.
"I gotta pee," he said on the hot mic.
Sure, a commercial could have saved the 73-year-old Kuiper the embarrassment of expressing his bodily needs on the air, but it certainly wasn't the worst slip out of the mouths of baseball announcers this year.