Are you ready to dive into the exciting world of Merch by Amazon?
Selling merchandise on one of the world's largest online marketplaces has never been easier. Whether you're an aspiring entrepreneur or a creative looking to share your designs, Merch by Amazon offers a fantastic opportunity.
Merch by Amazon is a godsend for budding artists waiting for breakthroughs in the merchandise industry. This article will discuss Merch by Amazon, how to apply, and the tips you can follow to thrive on this platform.
What Is Merch by Amazon?
Merch by Amazon is a service that allows individuals and businesses to design and sell custom merchandise on the Amazon marketplace. Sellers create designs for products like T-shirts, accessories, and more, while Amazon handles printing, packaging, and shipping. It allows creators, artists, and entrepreneurs to sell their unique designs to a broader audience without the hassle of handling inventory and shipping logistics.
How Does Merch by Amazon Work?
Here's how Merch by Amazon works:
Design: Sellers can create their own designs for various products like t-shirts, hoodies, and more. These designs can include graphics, artwork, slogans, or any creative element.
Listing: Sellers upload their designs to the Merch by Amazon platform, where Amazon then creates product listings for them. These listings appear like any other product on Amazon's website.
Sales: When customers purchase products with your designs, Amazon takes care of the printing, packing, and shipping. You, as the seller, earn a royalty on each sale.
Marketing: Sellers can also promote their merchandise through various marketing channels to boost sales and visibility.
Earnings: Your earnings are based on the royalties you earn from each sale. Amazon handles payments and deposits your earnings into your account.
How Do I Apply for Merch by Amazon?
Merch by Amazon's reputation as a leading print-on-demand service is well-founded. It offers a reliable and efficient platform for newcomers and experienced sellers. The following are the steps you can follow when applying:
1. Prepare the following documents:
Personal information

Payment and banking information

Tax information

Business or brand information

Website or social media page links
2. Go to the Merch by Amazon website and click "Request Invitation." It is found on the right part of the screen.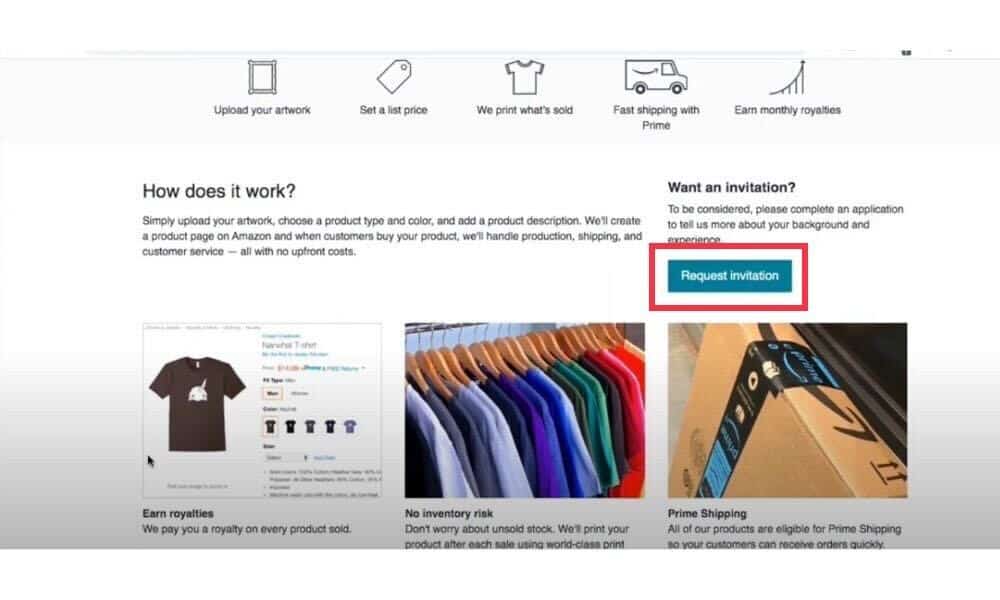 3. Sign in to your existing Amazon Account (or create a new one).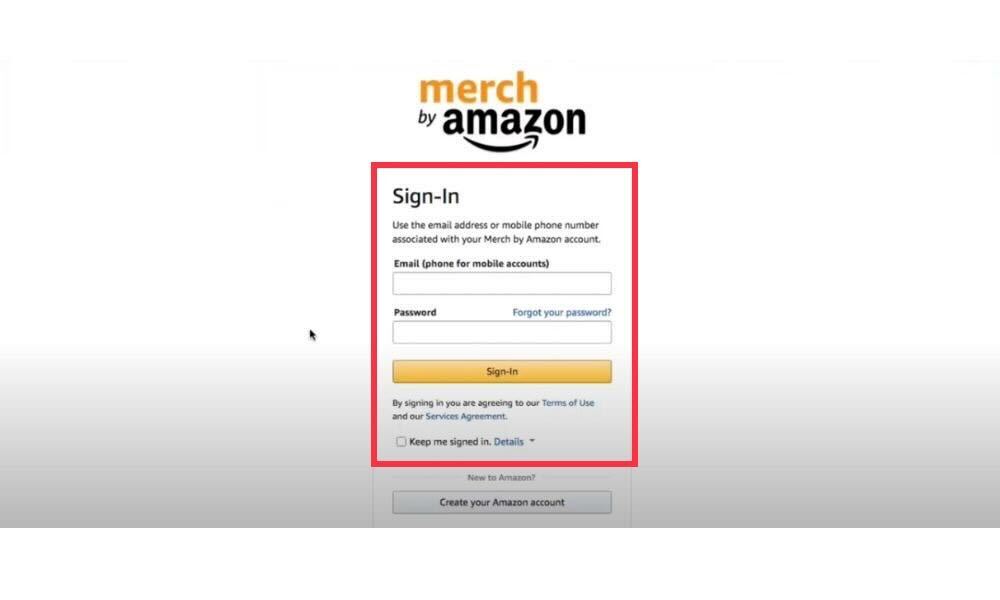 4. Provide the OTP.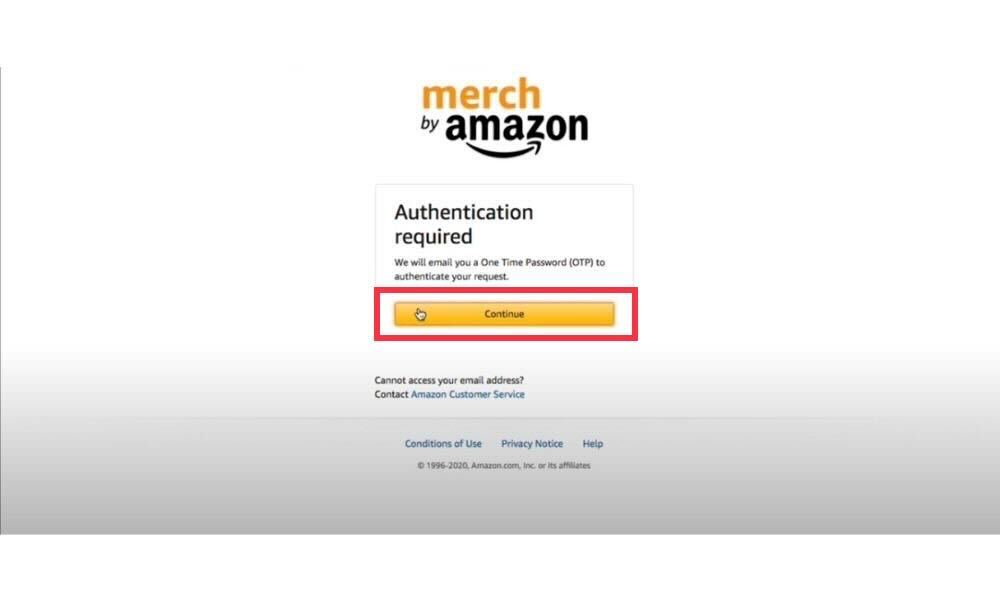 5. Accept Services Agreement.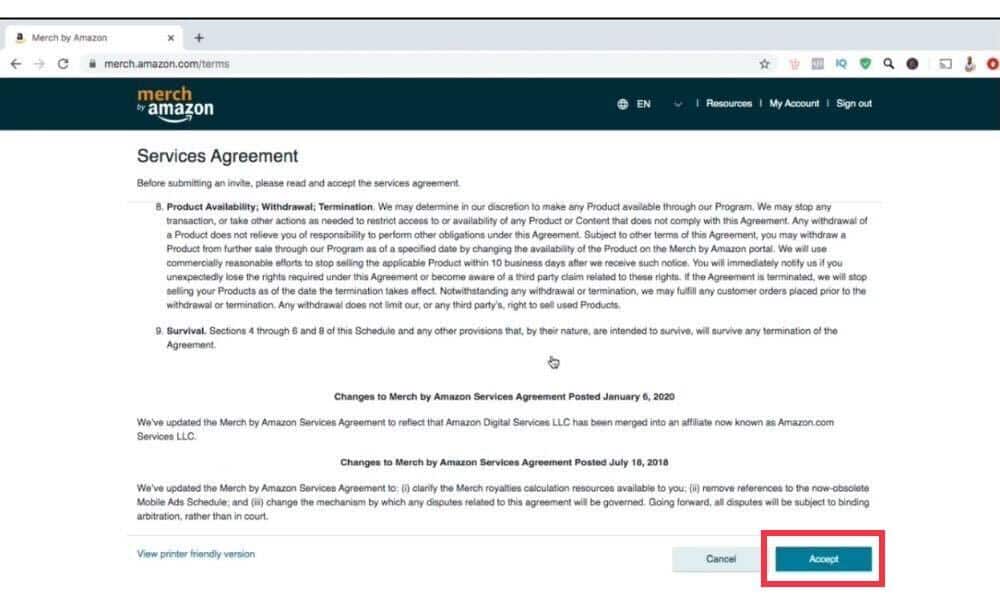 6. Click "Begin application".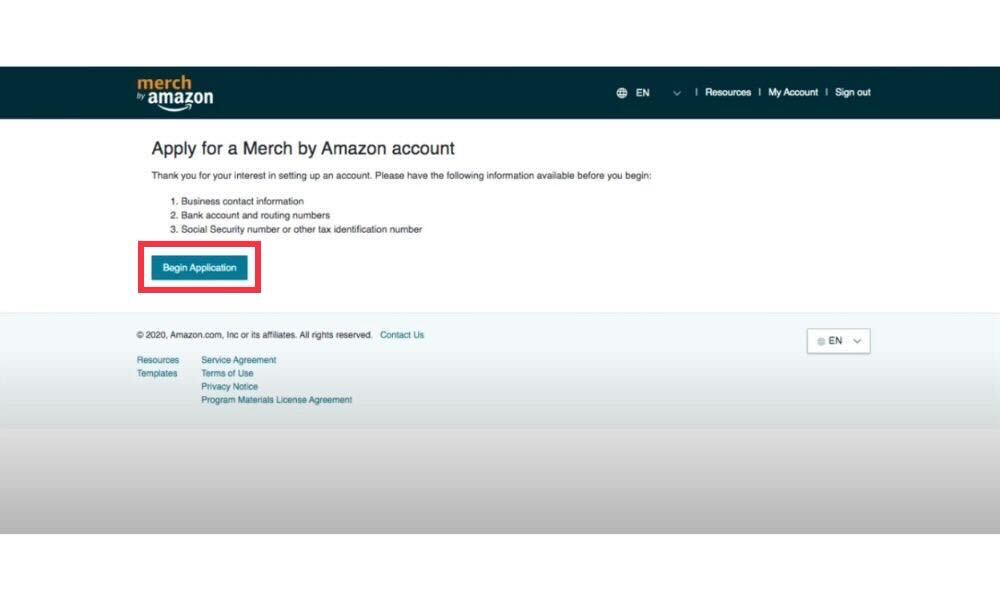 7. Finish the two-step verification process.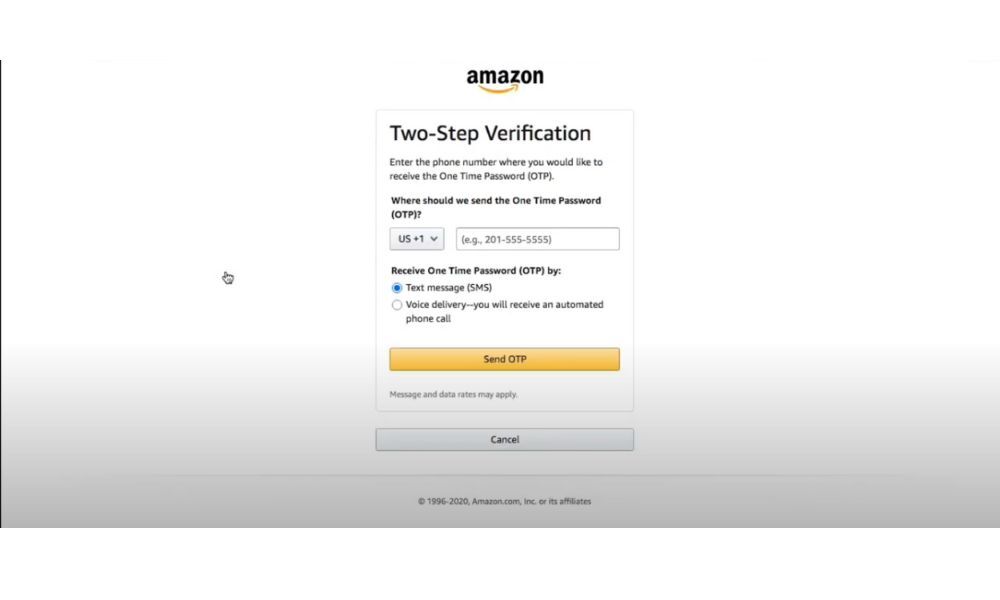 8. Fill out your account information.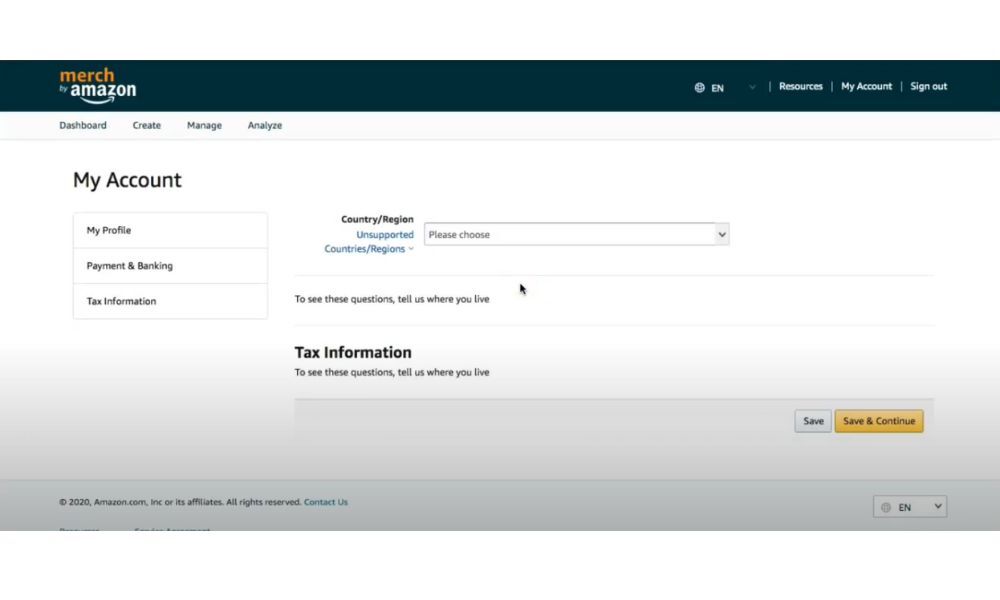 9. Provide bank and tax information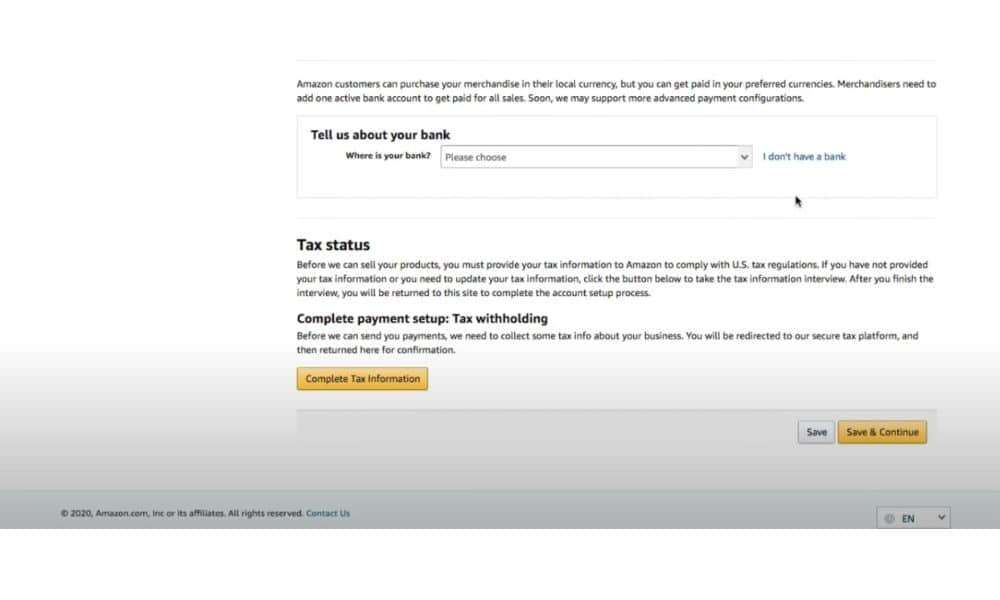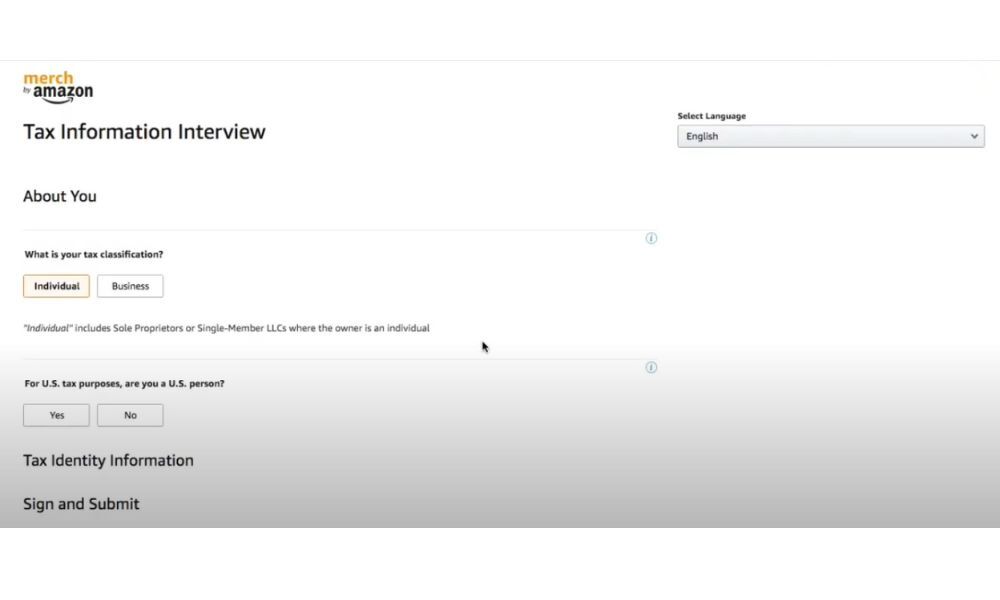 10. Fill out the Request Invitation Form.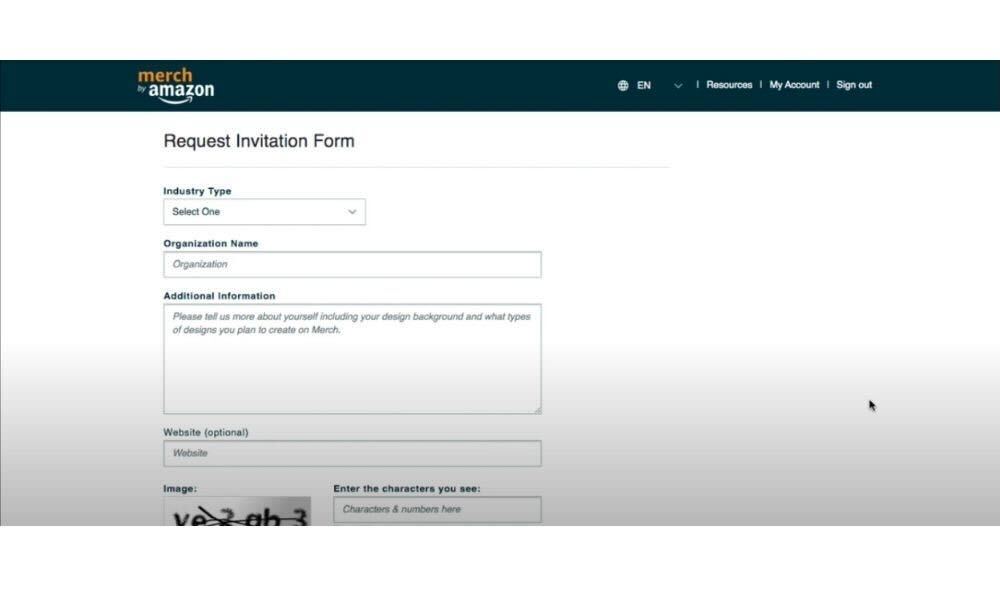 11. Once approved, you will be notified by email and can start submitting your designs.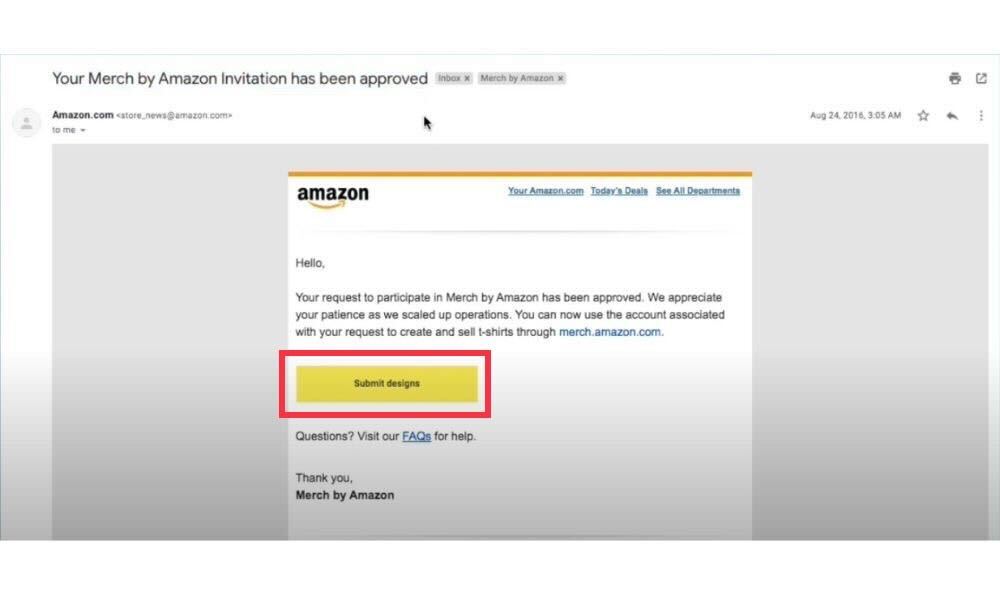 Designing for Merch by Amazon
The following are steps you can take when designing for Merch by Amazon:
Create original designs:

 Use graphic design software like Adobe Photoshop, Illustrator, and other design tools to improve your designs. While you can craft designs digitally, you must ensure that your designs are original and in line with copyright or trademark laws.

Design guidelines: 

You must familiarize yourself with Merch by Amazon's design guidelines. It will help ensure that your designs meet the required specifications for printing. You should also consider factors like image dimensions, file formats, color modes, and resolution.

Optimize for merchandise types: 

Tailor your designs to suit various merchandise like shirts, hoodies, and mugs. You need to adjust your layout and dimensions to match the product.

Test and iterate:

B

est your designs on varied products to see which works best. You should also gather feedback from possible customers or designers for improvement.
Strategies for Selling on Merch by Amazon
The following are effective strategies to enhance your sales on this platform:
Niche research and targeting:

I

t is crucial that you identify profitable niches. You can do this by conducting thorough market research. This will help you understand what is trending, know your target audience, and create designs your audience loves.

Quality design and unique selling proposition (USP):

You should focus on creating high-quality, original, unique designs that stand out. Likewise, you should develop a distinct style or theme that becomes your unique selling proposition and helps generate a following.

Optimize listings for SEO:

You should use relevant keywords, clear titles, and concise descriptions to optimize your product listings for search engines. It can help customers find your merch easily. The Amazon Merch dashboard allows you to create, manage, and optimize your listings for the best visibility.

Promote your work:

Promoting your designs on social media platforms can greatly increase your visibility. You can collaborate with influencers in your niche to show your products to more people. You can also get an Amazon ad agency to advertise your work on the platform.

Engage with your audience:

Actively engage with your audience through social media, email newsletters, and Q&A sessions. It will help them get to know you and your brand better. You can also use the platform to address their questions, ask feedback, and create a community around your brand.

Participate in Amazon promotions:

 You should utilize Amazon's promotional features, like discounts or limited offers, to reward purchases. These promos can drive more traffic and boost your sales.

Monitor and analyze performance:

Regularly review the sales you made, provide customer feedback, and check the analytics given by Amazon. Tools like Google Trends can help you determine popular trends for your merch strategy.

Optimize pricing strategy: 

To balance profit margins and customer appeal, you should experiment with varied pricing strategies. You should also test different price points to see which is more catchy for your target audience.

Focus on customer satisfaction: 

You should exert time and effort to provide top-notch customer service. Satisfied customers are more likely to give you positive reviews. Their feedback can boost your reputation and attract more customers.
Challenges and Solutions
By leveraging the power of Amazon's massive customer base, you have the potential to reach hundreds of millions of customers with your custom merchandise. But while it is a powerful platform, it has its fair share of setbacks. The following are the common challenges that come with Merch by Amazon, as well as the tips to overcome them:
Design approval process.

Getting your designs approved can be challenging because of Amazon's strict content policies. Hence, it is important to familiarize yourself with Amazon's guidelines and ensure that your designs follow the policies.

Tier limitations: 

When starting this business venture, you get limited design uploads based on your tier. This can hinder your growth as a business. However, you can optimize your existing designs and delete underperforming ones to accommodate newer ones. You should focus on selling to move to higher tiers and access more design slots.

Competition and saturation:

The marketplace is highly saturated, making it harder to get visibility. Hence, targeting certain audiences and researching trendy designs is crucial to creating timely and appealing merchandise.

Marketing and promotion: 

Since the market is vast, promoting your designs effectively can be overwhelming. Leveraging social media and collaborations is important to increase your design's visibility.

Copyright and intellectual property issues: 

One of the common problems when designing and selling merchandise are copyright violations and intellectual property issues.

Product diversification:

 It can be challenging to diversify products because of the limited slots on certain designs.

Handling customer feedback: 

Negative feedback can affect your sales and reputation as a business. So, you should address negative feedback promptly. You should also offer excellent customer service and strive to resolve issues properly. Furthermore, encourage your customers to leave positive reviews.
Final Thoughts
As a creative entrepreneur, you can join Merch by Amazon and showcase your designs to a global audience. You don't necessarily need to be a graphic designer. You only need the skills to craft creative designs that customers will love. Upon approval, you gain access to the merch account, where you can create and sell merchandise like t-shirts, accessories, and more.
Frequently Asked Questions
What is a Limited Liability Company (LLC)?
A Limited Liability Company (LLC) is a business setup that mixes features of partnerships and corporations. It protects owners from personal responsibility for debts like a corporation does. Plus, it has tax advantages like partnerships or sole proprietorships.
How long does it take to get approved after applying to Merch by Amazon?
Approval times may differ; it can last for weeks to months. Amazon reviews applications to ensure that everyone will comply with their policies.
How much are the upfront costs on Merch by Amazon?
Merch by Amazon comes with no upfront costs.
Related Articles
Amazon retail Arbitrage
What to sell on Amazon FBA
Amazon Product Research