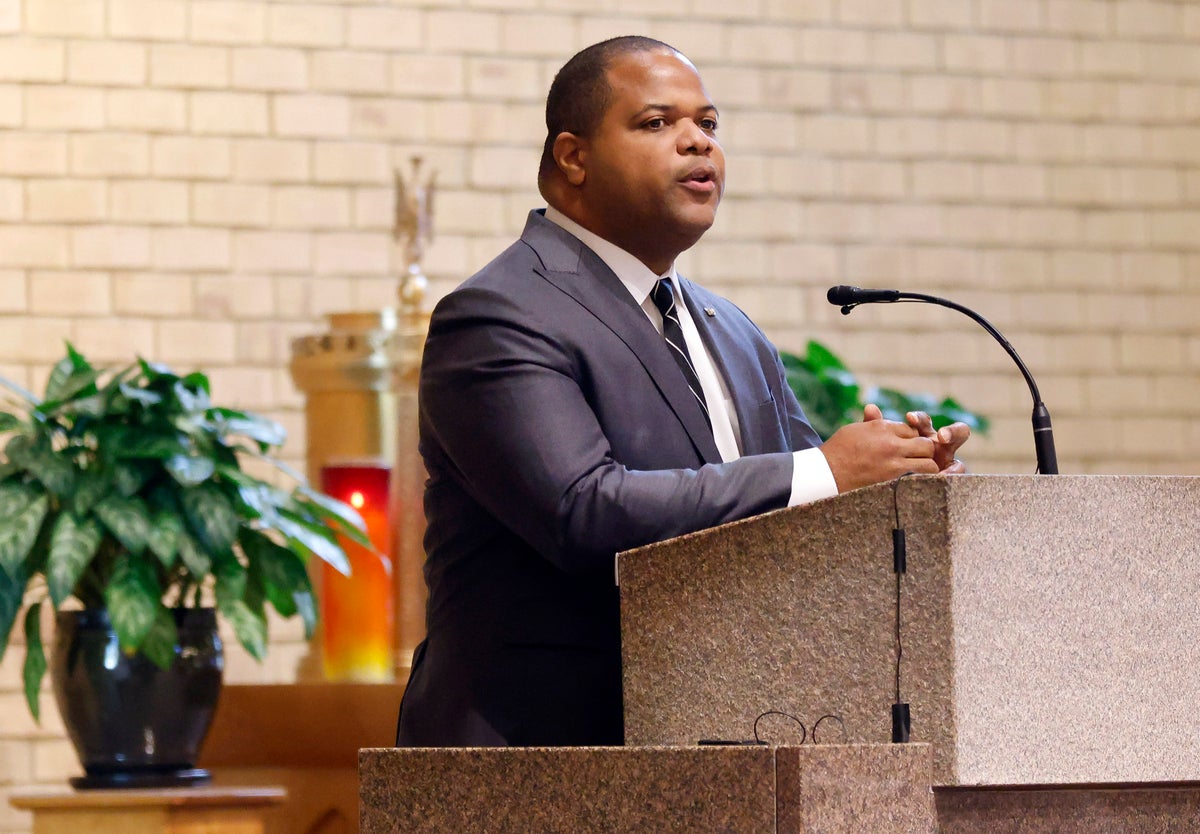 Dallas Mayor Eric Johnson announced this week that he is switching political parties to become a Republican, making it the largest US city with a GOP leader.
Mr Johnson, who served in the Texas legislature for nine years as a Democrat before being elected as mayor in 2019, shared the news in a Wall Street Journal op-ed.
"During the decade I spent serving my hometown in the Texas House of Representatives, I was a Democrat in a Republican-controlled Legislature. I prided myself on finding common-sense solutions and worked closely with my conservative colleagues to improve policing, public education and water infrastructure," he wrote.
"I was never a favorite of the Democratic caucus, and the feeling was mutual. By the time I was elected mayor—a nonpartisan office—in 2019, I was relieved to be free from hyperpartisanship and ready to focus on solving problems."
He added: "Too many local Democrats insist on virtue signaling—proposing half-baked government programs that aim to solve every single societal ill—and on finding new ways to thumb their noses at Republicans at the state or federal level.
"Enough. This makes for good headlines, but not for safer, stronger, more vibrant cities."
There were mixed reactions from political observers.
"This is one of the worst kept secrets in the world of politics," Vinny Minchillo, a Dallas-area Republican consultant, told the Texas Tribune. "This has been coming down for a long time."
Others celebrated the switch. "Texas is getting more Red every day," Governor Greg Abbott wrote on X, formerly Twitter. "He's pro law enforcement & won't tolerate leftist agendas."
The Dallas mayor joins a small group of prominent Black Republicans in high office which includes South Carolina Senator Tim Scott and Kentucky Attorney General Daniel Cameron.
Mr Johnson, who has named government spending cuts and public safety as key priorities, was often at odds with his colleagues on the liberal, 15-member Dallas city council.
Last week, he was one of five votes against a new budget, arguing proprety owners should've gotten a bigger reduction in their tax bills.
The newly-minted Republican mayor has also prioritized becoming a ally of law enforcement. In 2020, he refuted calls to defund the police following the murder of George Floyd and instead called to "defund the bureacracy" in Dallas city hall.
Dallas has invested millions in data-driven policing to deploy officers on high-crime blocks, as well as putting money into community development projects.
Dallas still struggles with violent crime, however. Its homicide rate ranks 18th of the country's 50 largest cities – higher than Los Angeles, New York City, Fort Worth, and Miami, according to Bloomberg.